Review Overview
Summary : The Craftsman 6 amp 2 -in1 Jig Saw 28223 is a GREAT saw for the money, and is a perfect balance between cost and quality
The first thing I have to say about the Craftsman Orbital Jig Saw is that it's more rugged and certainly feels more durable. It's a little bulkier than some of the other saw's I've use, but it handles very nicely. The grip handle has a hard rubber feel to it. It also has a nice feature where you can remove the handle from the top and use the bottom of the drill as a barrel grip. It has a rotating cut head on the top of the drill. I haven't found a use for that yet, but I suppose it's beneficial to some. It also has a laser trac attached to it to help with cutting straight lines.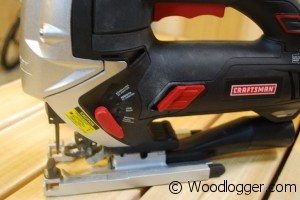 I purchased my Craftsman Orbital Jig Saw 28223 from Sears. I've been using it for a few months now, and it seems really solid. In fact this is my third jig saw that I've owned and is by far my favorite. It just feels rugged. I picked mine up for around $70, and also bought a blade holder(it's definitely "a nice to have").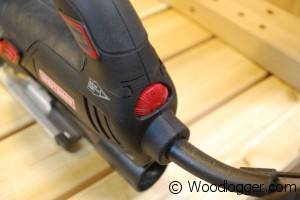 If you've read any of my other reviews of Craftsman product then you already know that I have mixed feeling about Craftsman tools. Craftsman hand tools are hands down the best in the world. No one beats them, and the warranty they offer. Power tools on the other hand are a different story. I think as a general rule high-end Craftsman power tools are usually pretty solid, but if you get the low-end or middle models of a craftsman power tool it's a bit of a gamble.
The box that the drill came in includes the following items for model 28223:
Jig Saw
2 blades
Dust tube
Hex Key
Carry Bag
Manual
Here is some more basic info about the saw:
Has a 2-in-1 design that allow you to remove the grip handle and use as a barrel grip.
Has a 6 amp, 800 to 3000 SPM variable speed motor.
Has Laser Trac
Has a variable speed based on pressure of handle
Has 5 cutting modes

Scrolling 360
Smooth
Low
Medium
Fast

Bevel cutting capacity 0° to 45° left to right
Built-in LED Work light
Blade storage in base
Carrying Bag
Overall I really like this saw. It's rugged, has a nice set of features included with it. The saw feels rugged and strong and I believe it will last for many years. I think if you're a casual woodworker like me, then this is probably a good fit for you.
Enter your email if you want a free subscription to this site(we'll never share your email):