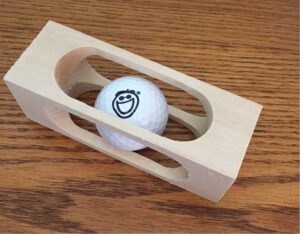 I saw a golf ball in a block of wood a couple of years ago, and I've been wanting to make one ever since.  I finally got around to making it and what a fun and easy little project this turned out to be.  You'll need a block of softwood (I used basswood) and a golf ball.  I trimmed the block down and used a drill press to clear out the space for the golf ball to go.  To get the Golf Ball into the wood you need to heat up a pan of water and put your block into it.  Let it soak for a few minutes and the wood will expand enough to squeeze a Golf Ball into it.  With just a few tools you can make this whole thing in about an hour.
If you make one of these be sure to post a picture of it over on the WoodLogger Facebook Page.  I'd love to see how yours turns out.
If you decide not to make one of these, but really want one; Check out the WoodLogger Shop.
Material List
(1) 1-3/4″ x 1-3/4″ x 5″ – Softwood (I used Basswood)
Cut List
Drill out center section using a 1 – 1/4″ Forstner Bit
Milling & Assembly
| | |
| --- | --- |
| | To get started on my block; I cut down a block of bass wood to 1-3/4″ x 1-3/4″ x 5″.  To drill out the middle of the block I used a 1-1/4″ Forstner Bit. |
| | I marked the ends of the block at 3/4″ this will be my guide when it comes to cutting out the middle.  I also measured to the middle of the block to give myself a reference point when centering the block on the drill press. |
| | Next up I used a 1-1/4″ Forstner bit to clear out the middle of the block I did both sides all the way through.  I put a piece of scrap underneath my block to protect the bottom of the block and my bit. |
| | After I had my holes drilled out; I sanded all over the block and cleaned it up. |
| | Next up I heated a small pot of water to near boiling and put my block in it for approximately 4-5 minutes. |
| | I then took the block out and squeezed the golf ball in between the rails.  If it doesn't want to go then you may need to soak your block longer or use hotter water.  It takes a little bit of pressure to get it in there.  I've made 4 of these and one of them I busted the rails.  If it simply won't go don't force it, and let it soak a little longer. |
| | Depending on what you're going to do with this you may want to apply some finish to the block.  If so, be sure to cover the golf ball with some tape.  If you decide not to make one of these, but really want one; Check out the WoodLogger Shop. |
Enter your email if you want a free subscription to this site(we'll never share your email):

Items Used to Finish this