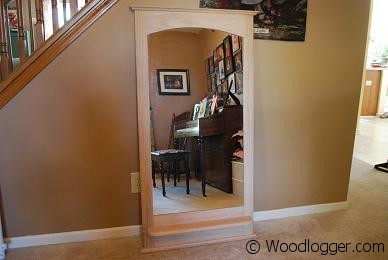 A framed project is just one of those projects that every woodworker has to do in their lifetime. Right up there with a workbench, cutting board(which I still haven't made) and an Adirondack chair. The Framed Mirror Project came to me via a family member who had a large mirror and wanted to build a frame around it. After looking at a few different project plans I went with one that I found from the book: The Pocket Hole Drilling Jig Project Book (Popular Woodworking)
. I modified the project to fit an existing mirror. The author recommends building the frame and then custom ordering a mirror to fit the frame. That's probably a good idea, and something that I may do in the future. For this project though, reusing what I had was the name of the game. Another thing the author used in his plan was to drill pocket holes on the front of the frame and then accent them with a different wood type. Not all together a bad look, but I prefer to hide joints whenever possible. I reviewed the book that I'm using for this project in another post if you want to check it out. As always I'll include links to anything I used to build this project at the end of post.
Materials
For the lumber I used Red Oak purchased from Menard's. I was able to do it with only two boards. For the hardware I purchased mirror hangers and clips from Hobby Lobby. The hangers and clips were only a few bucks. Having an existing mirror definitely made this project more affordable. If you have an existing mirror that you want to reuse you can probably get this done for under $40.
(2) 1″ x 6″ x 8′ Oak Boards
(6) Metal offset clips to hold mirror
(2) Mirror hangers
Milling & Assembly
| | |
| --- | --- |
| | To start on this project I decided to work on the shelf first(seemed the easiest). After rough cutting my shelf to length I used my handy Quick Corners Set to mark my corners on each end. After marking the corners it was time to trim those off. I used my bandsaw to do that. First I cut stress cuts into the board just short of my line. Then I cut rest of the waste off. |
| | After cutting my corners on my shelf I rounded them over with a 3/8″ round-over bit. The shelf turned out pretty nice, the quick corner set get's you a perfect corner every time. |
| | Next up was the top and bottom rails on my mirror. This is purely for decoration, so you can be as elaborate or simple as you decide. I stuck pretty much to the plan for this and routed the rails with a cove bit. I also did a round over on the edge of the rail to give it a smoother look. |
| | Next up was cutting the mirror top frame section. To do this I needed to cut an arch in the top piece. I used a strip of wood and bent it over from corner to corner and drew a line(an extra set of hands will keep you from going nuts on this one. So ask for help on this part). After I had my arch line I then went over to the bandsaw and cut stress cuts into my board. I then finish cut the rest of board. |
| | Once I had all of my pieces cut to their desired length's, I drilled pocket holes to assemble the frame. I also drilled pocket holes to hold the top and bottom rail. If you follow the plan he doesn't do it, but it certainly looks nicer. After all of my pocket holes were drilled I move on to screwing them together. I used 1-1/4″ Kreg pocket hole screws to do this. I didn't use any glue on this project. |
| | After I assembled the frame, I needed to route the back of the frame to inset the mirror. I used a 3/8″ rabbit bit for this. |
Finishing
I used metal clips attached in the back to hold the mirror in place. I also attached two frame hangers near the top of the frame. I attached these to the sides as you'll want to put the weight of the mirror on the sides and not on the top board. To finish this project you'll want to remove the mirror and apply your favorite stain and finish. Just make sure you follow the manufacturers directions. After that re-insert your mirror and you're all set.
Enter your email if you want a free subscription to this site(we'll never share your email):

---
Items used to complete this project