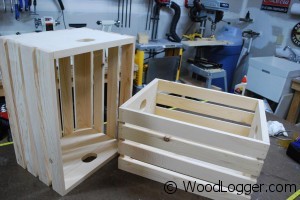 Crates are a funny thing. Well funny may not be the right word, but when I see a crate I immediately think of all the possible things that I could store in them. It's hard to imagine that people actually pay money (big money in some cases) for crates. Especially when you consider that not too many years ago things were shipped in wood crates everyday. Today people look at them as retro. I made this crate with the intention of actually making a coffee table out of it, but I liked the looked of it so much that I decided to split this entry into two posts. The wood I used on this was pine and was extremely cheap. I took a little extra time milling my boards with a sizer planner, but you could easily make this out of scrap, or pallet wood. Depending on what you're using this for the more "beat up" it looks the more appealing it may be. The entire thing is held together with just glue and some brad nails. If you make one of these be sure to post it over on the Woodlogger Facebook Page. I'd love to see how yours turns out.
Cut List
(4) 12-1/2″ x 4-3/4″ Sides edge glued together to make a final height of 9-1/2″
(13) 18″ x *2- 1/4″ Slats (I used 1/2″ thick wood for my slats, but 3/4″ looks great too)

*You may want to play around with the width of the slats depending on how much gap you want between each slat.
Milling & Assembly
| | |
| --- | --- |
| | First step was to work on my sides. To start I planed all of my boards(I had really crummy lumber). Then I trimmed my boards using my table saw to a width of 4-3/4″. After that I used my miter saw to cut a total of 4 boards at a length of 12 – 1/2″. I'll need two boards for each side as I'll edge glue them together to make each side. |
| | Next up were the slats. It was a similar process as my sides. First I trimmed a board on my band saw to a width of 2-1/4″. Next up I cut 13 slats at a length of 18″. I'll use 4 on each side and 5 on the bottom. You may want to play around with the width of the slats depending on how much gap you want between the slats. |
| | I took a short-cut here and pre-sanded my boards after they were all cut. This makes it a little easier then trying to sand after the crate is finished. I used a standard 60, 100, 180 grit approach to my sanding. I also used my bench top downdraft table to help reduce the amount of sawdust kicked up. |
| | For the sides of the crate I chose to edge glue two boards together. I could have used pocket holes, or dowels either of these would have been fine. I decided however, to use a biscuit joiner as I thought this would be the most suitable option for how I'm going to use it. To start I aligned my two boards and struck a few lines across both boards to know where to insert the biscuit. Next I used my tool to drill holes for the biscuits. After that I glued and clamped everything up till it was dry. |
| | This is an optional step, but I wanted small handles on the sides of my crates. I really wanted the look more than the function. I used a 1 – 3/4″ forstner bit and then slid my board over about 1″ and drilled another hole. It gave a nice rounded look(and was quicker then using a jig saw). |
| | To finish up my crates, there are again a lot of options here. Nails, screws, or even just glue. For mine I decided to attach all of the slats using glue and 1″ brad nails. I used 5 slats evenly spaced across the bottom of the crate and then 4 slats on each side. |
Enter your email if you want a free subscription to this site(we'll never share your email):