I was reading a post over at the Kreg Community site recently.  There was a debate about whether to use 1″ thick lumber for a picnic table or 2″ lumber.  Years ago, I had made a picnic table for my kids, but over the years it's aged fairly hard.  When I made that picnic table I chose to use 1″ lumber and I have regretted ever since.  The thing about kids is they don't actually sit at a picnic table.  They prefer to jump up and down on them, or try to train the dog to chase them on it.  Pretty much everything, but actually sit on them.  Needless to say my 1″ decision wasn't a very good one.  The bench seat and the tabletop both sag quite a bit after you sit on them.
I decided to make another picnic table, and I chose a project design from one of my all time favorite books.  The project is for a kids picnic table.  This plan calls for using 1″ lumber as well, but I'll be changing that to 2″.  I had one other requirement on my new picnic table.  The last time I did I made one I made it out of cedar and didn't treat or protect the wood in way.  This time I wanted to make one for the cheapest cost I possibly could, and this time I would paint it.
Materials

 
For the lumber I chose construction grade untreated pine.  Since I'm going to paint this, and it'll be used outdoors no sense going for the good stuff.    I purchased all of the lumber I used for my project at Lowe's.  The total cost for this project (excluding paint) was just $24.  I was able to make the entire project using:
(4) 2″x4″x8′
(4) 2″x6″x8′
1 coat of primer, and 2 coats of 4 colors (I used green, blue, yellow, red)
Milling & Assembly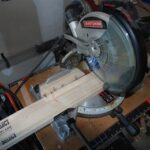 Talk about a super simple project.  This truly was a project where I purchased, rough cut, finish cut, and sanded all of my boards in a single afternoon.  Finishing on the other hand always takes me a long time.  I still look at finishes and paint as some evil magic that I have to perform to complete my project (but more on that later).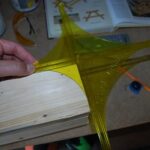 All of the cuts that I did on these boards were done with my compound miter saw.  I had to create rounded boards for the legs of the table.  To do this I used my trusty corner finder jig.  After marking these up I made quick work out of these with my jigsaw.  The milling part of this project was fairly simple.  In hindsight I think I should have thickness planned these boards.  There were a lot of imperfections on the boards that I had to work through during sanding.  This is an outdoor picnic table, not a family heirloom so you have to balance the amount of work you want to put into a project like this.
| | | |
| --- | --- | --- |
| | | |
| After cutting all my lumber (I primered and painted everything before assembly); I began assembly on the legs and support.  If you follow the same plan that I did I found it easier to complete one side first and then line up the other side on top of the completed one.  You'll get a consistent set doing it that way. | | I attached the boards together using 2-1/2″ screws.  After completing the sides I joined the two together with a support beam.  I plan on installing an umbrella with this table.  At this point your but completed.  Just flip the table over and lay your top boards, and benches in place.  I used 3″ screws to hold those in place. |
Finishing
Boards All Primered

When it came to finishing the table, I used 1 coat of primer.  I tried something new this time.  Lowe's has a product called Tintable Primer.  I was only mildly happy with the results.  It allows a second coat to be bright, but it just doesn't give you that clean slate feeling.  For my next project I may use what I have left in this can, but not sure I'll do much with it after it's gone.  The primer goes on practically clear, and dries very quickly.

Kids Picnic Table Paint and Primer used

Kids Picnic Table Painted

I then applied two coats of various colors of an exterior latex.  I used exterior Valspar paint from Lowe's.  It did a really nice job.  There actually was a method to my madness of painting different colors, although I'm probably the only one who'll ever notice that. One other thing I did (which typically I NEVER do) was to pre-paint all of my boards before assembly.  I'm not color blind by any stretch but as a guy I'm definitely color challenged.  I just have a hard time seeing how all of these boards and the colors will work together.  I wanted to check it out before I assembled.  I did do a little touch-up after assembly, but again it was another example of something that only I would ever notice.
Enter your email if you want a free subscription to this site(we'll never share your email):