I've been wanting a Zero Clearance Plate for a Table Saw for sometime now. I could buy this one Craftsman 21833 Table Saw Zero-Clearance Insert CR-4
from Amazon, but ultimately I decided to make my own. I have a Craftsman # 21833 saw. The saw is great but it comes with a standard plate and I've been reading for a while now how it causes more tear out. Also, when I made smaller cuts (think 1/8″ – 1/2″ width cuts) the board will simply fall into the gap and into my table saw. Eee gads..!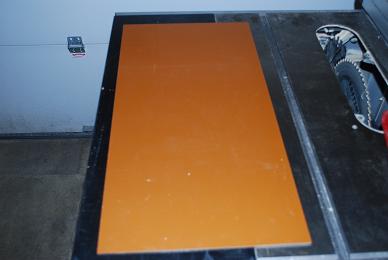 When I started my research on this I found that most plates are 1/2″ in width and most folks would simply buy a 1/2″ piece of hardwood or mdf and trace it and cut it out with a band saw. Sounds simple huh? Unfortunately for my saw it required a 1/8″ thick board. I tried a couple of pieces of hardwood and traced it and cut it out on the bandsaw. What I quickly found out was that 1/8″ hardwood quickly warps itself and it also contracts and expands with climate. It wasn't a good fix, I was frustrated and almost gave up on the idea. Then it occurred to me to simply buy some Phenolic- Grade material (yeah I had never heard of this stuff either) it's the same material that store-bought plates are made of. I was able to get the width I needed and I could make several of these bad boys if I needed them.
How I made mine was to start by cutting my material to a length approx. 1/4″ longer and wider than my tablesaw plate. In hind sight I think I could have made it 1/8″ and still been safe. Next I took my table saw plate and used double stick tape and attached it to the material. On my plate there was a small notch on the plate so I had to put my plate upside down on the material. Next I used a trim bit on my router table and simply allowed my plate to be a guide for the trim bit. It worked like a charm. The bit makes an exact copy of my table saw plate. The next thing I did was cut a 1/2 inch hole into the new plate to give me a way to remove it from the tablesaw.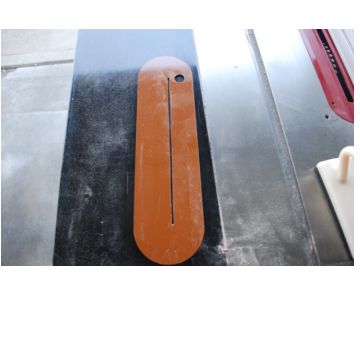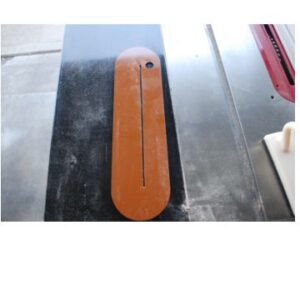 Last step was to place the new plate on to the tablesaw. I quickly found that I needed to lower my riving plate as far as possible. Then I simply used the fence to help hold the plate in place. I also used a piece of scrapwood to hold the other side and I started the saw and raised the blade until it cut out a slit for the blade to go through. The whole process probably took me an hour or two to complete. It was my first time using a trim router bit, but trust me it's a snap to use. I would recommend a trim router bit that doesn't have a length between the blade and the guide. I had two trim bits, and I noticed one had a pretty big gap between it. In my case because the board needed to only be 1/8″ I didn't have a lot of room for error.
I've included links below for the material and bits I have used. Hopefully this helps out..!
Enter your email if you want a free subscription to this site(we'll never share your email):