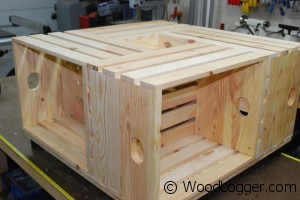 This crate coffee table is rustic and just looks fun when it's all together.  It's great for storage and makes an excellent addition to your living room or game room.
I made some crates awhile back with the intention to make a crate coffee table.  This table was simple and easy to put together.  Whether you make your own crates or simply buy some; you can easily put them together and make a unique coffee table.
This table is made entirely our of pine so the cost was very low.  The crates are held together using 1-3/4″ screws.  The bottom is a piece of plywood that was cut to be a little short on each side.  There are caster wheels attached to the bottom which makes it easy to move around.  Check out this post to see how easy it is to make your own table, and if you make one of these be sure to post it over on the Woodlogger Facebook Page.  I'd love to see how yours turns out.
Cut List
(1) 29-1/2″ x 29-1/2″ plywood bottom.  I cut mine to be about 1/8 inch short on each side
Milling & Assembly
| | |
| --- | --- |
| | To get started on the crate table you'll need four crates that are the same size.  Ideally you'll want the slats to be relatively close.  This will make it easier to sit things on top of it.  Crates can be expensive to purchase, but with a little effort you can easily make your own crates. |
| | After the crates are lined up secure them from the inside with screws.  I used 1-1/4″ screws to secure mine. |
| | For the bottom of the table you'll need to cut a single piece of plywood to fit the dimensions of the table.  I cut mine about an 1/8″ short on each side.  Secure the bottom with screws.  I used 1-1/4″ screws for mine. |
| | The center of the table will be open after it's assembled.  I had a few extra slats left over when I built my crates.  I chose to use these slats for the middle, and recess them just below the top.  Here again is a great opportunity to get creative.  To secure the slats in place I applied glue along the edges.  |
| | After inserting all the slats I used the weight of a paint can to hold them in place until it was dry. |
| | After the bottom is secure to all the crates the next thing to consider is if you want any legs with the table.  There are several options available.  You may want to use legs, casters, wheels, or simply sit the table on the floor.  All these options should work great with the table. |
Enter your email if you want a free subscription to this site(we'll never share your email):