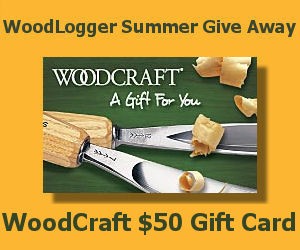 Hey fellow woodworkers, we'll be doing a Summer Give Away for all those who are interested.
Be sure to check back and see what other promotions are going on, and remember you can add 1 entry each day you enter by choosing the tweet option..!
Winner will receive:
1 – WoodCraft gift card valued at $50.  Card can be used online at www.woodcraft.com or in stores.
If you are selected as a winner, an email will be sent to the email address provided.  The winners first name and last initial will be posted back on this page after the give away is over.
Give Away is open to United States residents only.  Entrants email address will only be used by WoodLogger.com and NOT shared or sold to anyone.
See the Terms and Conditions for a complete list of rules.