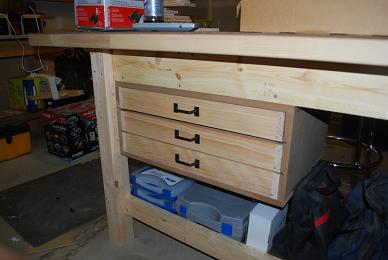 A few weeks back I built a new workbench.  I have an excellent plan that I recommend from Amazon.com.  It includes six different upgrades to the bench.  I really liked the workbench drawers upgrade that is in the plan and I decided to build those and attach to my bench.  I'll include links to the plan and what I used at the bottom of this post in case you want more information.
Materials
For lumber, I purchased everything I needed at Lowe's.  The plan called for using MDF for the frame of the shelf.  I've only used MDF a couple of times and I've never been happy with it.  I wanted to give it another shot, but my opinion still stands.  It's cheap and easy to handle, but everything about it just feels like Extremely Heavy thick cardboard.  It dings easy, doesn't hold screws very well, and you just get the feeling that about 1 oz. of water poured on it and the whole thing would swell up and fall apart.  That having been said, I suppose if there was ever a good application for this wood a shop project would be it.  Not a lot of lumber is required for this.  My total cost for the shelf of drawers was approx. $50.
(1) 3/4″ x 4′ x 8′ MDF
(3) 1/4″ x 2′ x 4′ Hardwood (You could buy larger pieces and cut down, but I had some scrap I wanted to use)
(4) 1″ x 4″ x 8′ Pine Boards
Milling & Assembly
| | |
| --- | --- |
| | After rough cutting my lumber per the plan.  I then cut grooves that were 1/4″ wide to support the bottom tray of the drawer.  I completed this by doing two passes on my table saw.  Just as accurate and a little faster than pulling out my router table. |
| | After cutting all of my grooves I then drilled pocket holes into my boards.  I used my Kreg Jig to do this.  The plan calls for cutting a dado on one end and building your drawer that way.  It's definitely a little prettier to do that, but I chose to make it quicker (this is for a workbench in my garage not my living room).  Another benefit of using pocket holes instead of a dado was that it shortened the length of two boards per drawer by 1″.  Which allowed me enough room to get an extra side on my 8′ pine board.  I saved some money by doing that. |
| |  I completed the assembly of my drawers using pocket hole screws |
| |  Completed Drawer (1 of 3) |
| | After completing the drawers it's time to move on to the case.  I cut 1/4″ grooves into the sides (using the same technique that I used for the drawer bottoms) of the MDF case. |
| | I built the case using glue and 2″ screws.  I also used hard wood strips inserted into the grooves on the sides to support the drawers. |
| |  I completed building the case, and inserted the drawers.  Next up I attached the two top cleats that will be used to hold the case in place on my workbench.  I glued and screwed them in on top, however in hindsight I think it would have been a tighter fit had I screwed it in from the bottom. |
Finishing
Not a lot to finishing this one.
I applied one coat of Danish Oil to the drawers (not the case).  I also attached some handles to the drawers.
Enter your email if you want a free subscription to this site(we'll never share your email):

---
Items used to complete this project