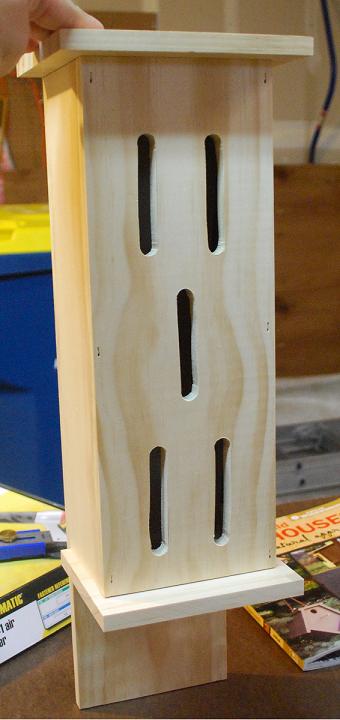 My wife has been wanting a butterfly house for a while now.  In fact she has had it on my list of things to make since last winter.  In this post I go over how to build a butterfly house, and what a nice and easy little project this turned out to be.  I completed it over a weekend and she was definitely pleased with it.  I think my jigsaw skills still need some work.  I probably should have used a straight edge for some of this, but I can be a little hardheaded when it comes to attempting to do stuff freehand.
The plan I followed for this came from a book that I picked up, Easy to Build Birdhouses- A natural approach.  I reviewed this book in a previous post.  I'll include links for the things I used on this project at the bottom of this post  in case you want more information.  If you make one of these be sure to post it over on the Woodlogger Facebook Page.  I'd love to see how yours turns out.
Materials
For lumber, I purchased everything I needed at Lowe's.  Not a lot to this.  All of this is 1/2″ pine, but you could use anything you want provided you protect it for out-door weather.  This one will be painted from top to bottom so it should be okay.  I only used (1) – 1/2″ x 4′ x 8′ Pine
---
Milling & Assembly
| | |
| --- | --- |
| | Doing the rough cuts for this, I was able to use my tablesaw for all of the pieces.  No tricky cuts on this one |
| | After I cut the sides of the house down, the author recommends that you attach a branch inside for the butterflies to grab onto.  Apparently they like that.  I used a small branch that I got from a tree in my backyard, and just attached it with a brad. |
|   |  To make the entrance of the butterfly house, I first drilled two holes on both sides of each slot and then connected them by using my jigsaw to connect them.  The boards are only 1/2″ thick so I guess I could have used a scroll saw too.  I'm not over thrilled with my freehand jigsaw skills.  I should have probably used a guide.  I'll definitely do that next time. |
| |  I started assembly by attaching the sides to the back of the house.  I used exterior wood glue and nails to hold them in place. |
| | Next I attached the front of the house using exterior glue, and brad nails. |
Finishing
When it came to finishing this one up.  My wife is going to paint the entire thing with exterior paint.  You could finish it up with exterior stain, but I think butterflies like colorful things…!
Enter your email if you want a free subscription to this site(we'll never share your email):

---
Items used to complete this project