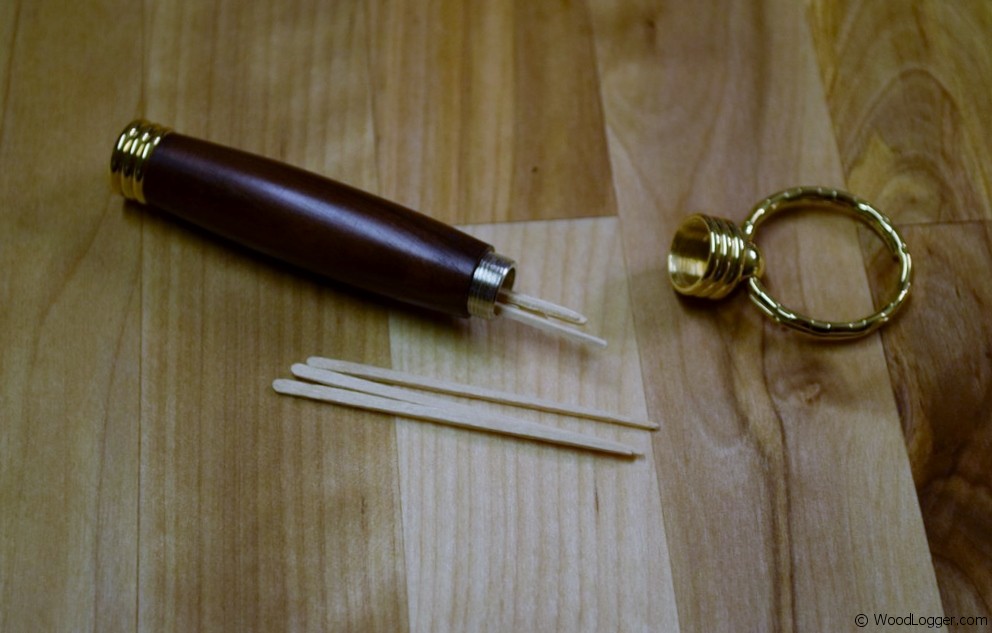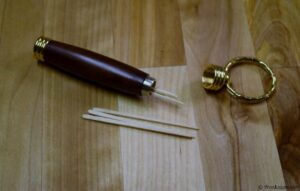 I found this toothpick holder kit at Rockler.  It's a fun turn, very similar to turning a pen on a lathe.  This kit has gold color end caps that look very nice and the rubber gasket to keep the inside dry.  Also included with the kit is a key ring for convenience.  Turning the toothpick holder kit was easy and I completed the whole project in about an hour.  I used EEE-Ultra Shine as a finish and then put a layer of Shella Wax on top of that.  I'll include some links for some of the products I used to turn to this near the end of this post.
If you make one of these be sure to post a picture of it over on the WoodLogger Facebook Page.  I'd love to see how yours turns out. (pun intended)
Material List
(1) Toothpick Holder Kit
(1) 1-1/2″ x 1-1/2″ x 6″ Acrylic or Wood Blank
Milling & Assembly
The toothpick holder kit comes with only a few pieces.  The tube, key-ring, and two caps.  If you've turned any "kit type" projects in the past you'll find this one a snap to put together.
I cut the blank about 1/8″ longer than the tube with a miter saw.

After the cutting the blank I then found the center point on the end of the blank.  I used a center finder, but a ruler will do the job just as quick.  I then drilled a hole using a 7mm drill bit.

After drilling out the hole for the tube.  I scuffed up the tube with sandpaper.  This is done to help the CA glue that I used to give it something to grab onto.  The CA Glue I used is called stick fast.  Which is appropriately named.
Next up I headed to the lathe and turned the blank to shape.  I used a bowl gauge and skim until I was happy with the size and shape.  After that, I sanded the toothpick holder and finished it with EEE-Ultra Shine, and Shella Wax.
The assembly for the toothpick holder was quick and easy.  I used a pen press to help with the assembly for mine.  If you're considering doing a lot of these kits you may want to invest in one of these.
The final product turned out great.  This toothpick holder kit was a quick and easy project that can be done in about an hour.
Enter your email if you want a free subscription to this site(we'll never share your email):

Items Used to Finish this