I purchased the Craftsman Model # BAS350 Bandsaw recently and it has been an excellent addition to my shop! Craftsman hand tools are the best in the world, but their power tools can be hit and miss sometimes. This one however, has definitely been a hit for me. I think Craftsman has struck the right balance between cost and features. I purchased mine on sale for about $400 from my local sears. In the below post I'll go over the features, assembly, and wrap up with a short summary.

Features
The device offers two blade speeds: 1620 and 3340
Two dust collection ports.  One at the back and one at the front.  They are 2-1/2 in. and 4 in. deep.
Include a standard 3/4" x 3/8" miter slot
Seven foot power cord
Upper and lower guards
The saw has an 8-inch resaw capacity and ball bearing guides to help reduce friction and lengthen blade life.
Craftsman One Year Limited Warranty
45-degree tilting table
---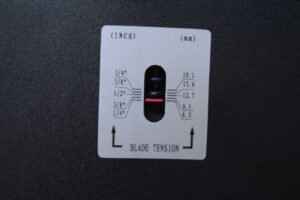 A tension indicator is located on the side of the bandsaw.  Adjusting the tension knob on the top of the saw will move the indicator up or down.
---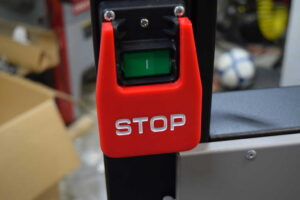 The saw includes a large start and bright red safety stop lever.
---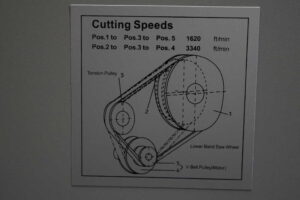 The saw can be adjusted to cut at two different speeds.  A handy guide is included on the side to make it easy to adjust speeds.

---
Assembly
The assembly of the Craftsman Bandsaw went smoothly and overall was simple.  I did a quick video of how I assembled it below.  You can easily assemble it in less than an hour.
---
T
he assembly of the Craftsman Bandsaw went smoothly enough.  The table assembly was simple and actually stronger when fully assembled than I imagined.
---
A nice thing about assembling the Craftsman Bandsaw were the directions.  They were complete and just made sense.  In fact most of the band-saw is already assembled for you.  You will need a few tools to complete the assembly:  Phillips screw driver, adjustable wrench, and a square.  The saw is heavy and I would strongly recommend that two people lift it onto the table when you're ready to seat it.
---
Summary
I really like the Craftsman Bandsaw Model BAS350 (00932607000P).  This bandsaw is sturdy accurate and easy to assemble.  It's well priced for what is included and should last for years.  The heavy cast iron table just looks and feels solid.  It is great for cutting wood, and with adjustable speeds it can be used for other purposes.  It's extremely rare that I have no criticisms for a product, but honestly I have none at this time.  Perhaps with more use and time I will update this post, but for now it just seems solid.
Looking for more information?  Check out the Crafsman Bandsaw Model BAS350 Manual