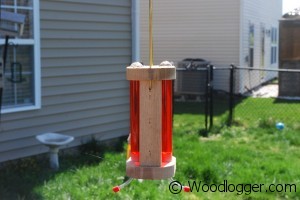 If you're looking for an easy to build hummingbird feeder this one is perfect. I made this hummingbird feeder in only a few hours. I got the plan from a book written by A.J. Hamler. A.J. is a an excellent woodworker and his book: Easy to Build Birdhouses – A Natural Approach
is a fun one. I've made several projects from this book and I wrote a book review where I have more information if your interested. The tubes for the feeder you can find in pet stores in the pet bird feeder section. I wanted to make a few of these so I ordered mine off of Amazon. The little feeder tubes at the end I ordered online, but I've seen these in bird stores too. I put links at the bottom of this post where you can find some of the items I used to build this.
For a little extra help with this project I also put together a video of how I made this below. If you make one of these be sure to post a picture of it over on the WoodLogger Facebook Page. I'd love to see how yours turns out.
Materials
Not a lot for this one. I used a single 8′ board of cedar that I was able to pickup at Lowe's.
(2) 2″ x 2″ x 8″ – Cedar
(4) 1″ x 4″ x 8″ – Cedar
(4) 2″ x 4″ x 8″ – Cedar
(1) 1″ x 2″ x 8″ – Cedar
Milling & Assembly
| | |
| --- | --- |
| | For the bench I chose to make all of my cuts using a miter saw. Nothing complicated about these cuts. The whole thing is made with only 5 boards. |
| | I used a quick corner marking tool to get my corners for the bottom and top of the feeder. |
| | For the finish cuts, I did all of them using my band-saw. You could do these with a jig saw too. These are simple and quick cuts. |
| | For the top of the feeder I cut holes all the way through it. For the bottom of the feeder. I cut the holes about an inch deep, and then cut another hole for the feeder tubes to slide through. |
| | I used exterior rated glue and brads to attach the bottom of the feeder to the base and sides. |
| | For the handle I used a brass piano wire that I picked up at a hobby store. The sides are bent and go into the sides of the feeder. |
| | After I had the feeder assembled, I inserted the Hummingbird Feeder Tubes into the bottom, and then slid the Bird Feeder Tube 8 1/2″ into the feeder tubes. |
Finishing
Not a lot to this one. I did a light sanding with a medium grit sandpaper, and then applied a coat of an exterior lacquer to help protect it form the elements.
Enter your email if you want a free subscription to this site(we'll never share your email):

Items Used to Finish this