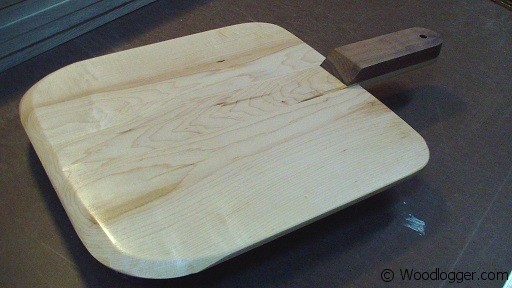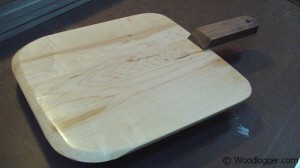 If you're looking for an easy weekend project.  A Pizza Peel, or Baker's Peel is an excellent project to tackle.  My wife asked me to make one of these awhile back and this turned out to be a great little project.  To gather inspiration for this; I Googled pizza peel and quickly found out there were quite a few folks who have made these.  The basic design of the peel was to edge join three boards made out of maple.  I also needed to plane my boards down to a thickness of 3/8″.  I don't have a thickness planer, so I used my joiner planer to get this done.  It's a bit of a pain to resize boards this way, but this was a pretty small project so it wasn't too bad.  After I re-sized my boards I cut the outside boards to a length of 5-1/2″ x 14″ and the inside board was cut to a size of 2″ x 20″.  The handle was cut to a length of 2″ x 6″.
As always I will put links to some of the things I used at the end of post.  Also check out "my attempt" at putting a video together on how to make this.
Materials
Not a lot for this one.  I was able to pickup both of the boards I used for this at a local hardware store.  You could easily make two or even three of these at the same time for just a slightly longer maple board.
(1)  3/4″ x 6″ x 6′ Maple Board
(1)  3/4″ x 2″' x 4' Walnut Board(I only used about a 6″ length for the handle)
Milling & Assembly
| | |
| --- | --- |
| | I started by planing the maple stock down to 3/8″.  A thickness planer is the way to go if you have one, but you can still get it done with a planer joiner. |
|   | Next up was rough cutting the lumber.  The pizza peel consists of 3 boards edge joined.  The outside boards are cut to a length of 5-1/2″ x 14″ and the inside board was cut to a size of 2″ x 20″. |
| | After cutting the maple boards to length, next up was the walnut handle.  For the handle I cut one end at a 45 degree angle.  The size of the handle is 2″ x 6″. |
| | For glue up I taped a piece of wax paper to my bench.  This will help the project from being a mess. |
| | For glue up I used a water proof glue.  Clamping things up was pretty easy.  I used a scrap piece of wood to protect the sides. |
| | For the handle I used the same water proof glue and clamped it up as shown. |
| |  For the corners of the peel I used a quick corner jig. |
| |  I used the same jig for the handle to get a rounded look. |
| |  Next up was cutting the rounded ends off the peel and the handle.  I used my bandsaw for that. |
| |  I also drilled a hole into the handle.  I think was more for form than function, as I don't see hanging this up, but it does add to the character of the piece. |
| |  To get the beveled end of the peel I used a power sander.  I really thought this was going to be the hardest part of this project, but it really was a snap.  I was able to get a pretty sharp point and it was balanced on both sides pretty well. |
Finishing
To finish the peel, I sanded it using a standard low grit, and moved my way up to a 220 grit.  I also broke the edges of the peel with sandpaper and gave it a round over look.  To finish it I used a product called salad bowl finish.  It's supposed to be safe for wood that comes into contact with food.  I applied five coats to the peel.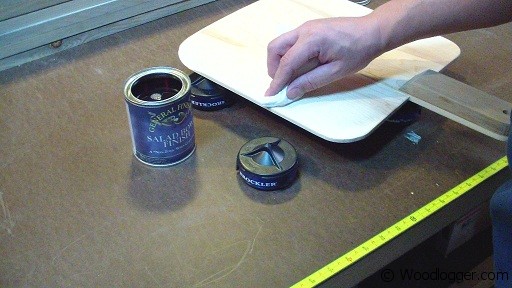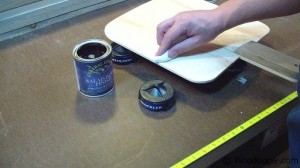 Finishing the Pizza Peel, I used five coats of salad bowl finish.
Enter your email if you want a free subscription to this site(we'll never share your email):

---
Items used to complete this project