I purchased the 12 speed Porter Cable 15″ Drill Press and what a great addition it has been to my shop.  I previously owned a bench top delta drill press.  While that was a great drill press, I felt it was time to upgrade to a full size drill press and the porter cable drill press was a great purchase at a great price.  I purchased mine for approximately $300 from Lowe's and from all accounts it should last for many years.  In the below post I'll go over the features, assembly and wrap up with a short summary.
Features
X-Y axial projecting laser guides provide accurate pre-alignment of drilling location
Twelve operating speeds (300-3100RPM) allows for drilling in metals or wood and sanding operations
Dual left and right hubs allow for placement of crank handles on either side of drill head
Cast Iron work Table designed for wood or metal drilling, tilts up to 45 degrees for bevel drilling
Spindle travel up to 4″ provides extra depth capacity
Adjustment depth gauge allows for accurate repetitive drilling
Adjustable goose-neck work light for better illumination of work area
---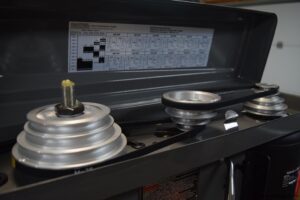 The drill press has 12 speeds from 300 rpm to 3100 rpm which can be adjusted by moving pulleys in the top of the drill press.  Moving these around are a snap and a helpful chart is included that gives suggested speeds based on material type and drill bits.
---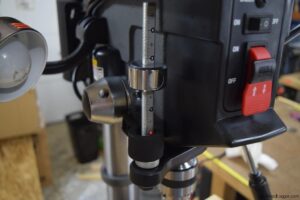 Another nice thing included with the drill press is an adjustable drill gauge.  This allows for repetitive and accurate drilling.  The gauge has a quick release that allows it to move up and down quickly.
---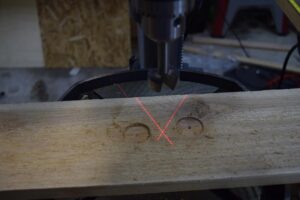 A laser cross beam is included with the drill press allowing for precise drilling.  The instructions include detailed information on how to align this.  Fortunately for me the laser was lined up perfectly out of the box.
---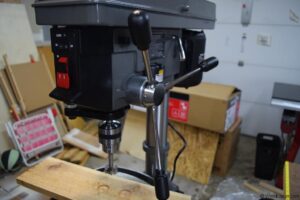 Three handles that can be attached on either the left or right side are included.  So whether you're right or left handed it's not a problem.  The handles are a nice size and make it easy to grasp.
---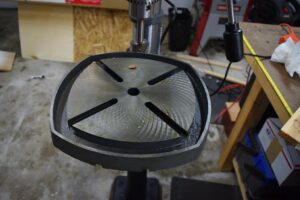 The drill press also has a really nice(and large) cast iron table.  It includes  a well for those who may use it for drilling metal.  Another nice feature is that it can be rotated and tilts up to 45 degrees for bevel drilling.
---
Assembly
The assembly of the drill press was very simple.  I did a quick video of how I assembled it below.  You can easily complete it in less than 30 minutes.
Summary
I REALLY like this drill press.  The Porter Cable Drill Press is sturdy accurate and easy to assemble.  It's very well priced for what is included and should last for years.  The laser pointer was aligned right out of the box and required no adjustments.  The heavy cast iron table just looks and feels solid.  It is good for wood or metal drilling.  My only criticism of the product is that the work light seems a little dated compared to other models that include an LED light.  This is a really minor complaint; especially considering many will not even require a work light.