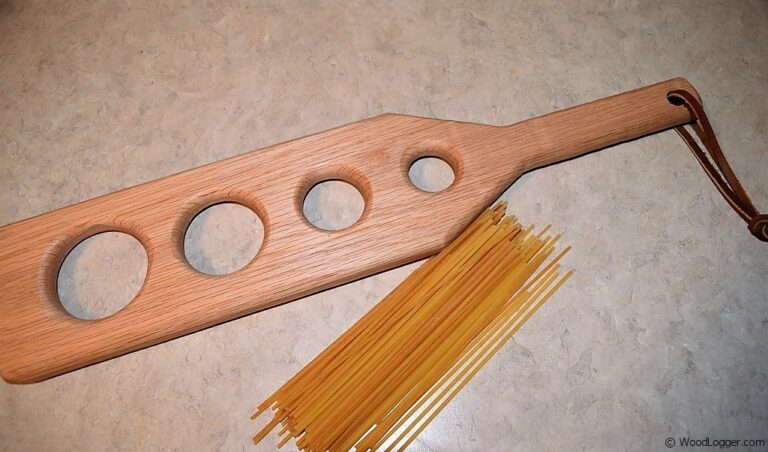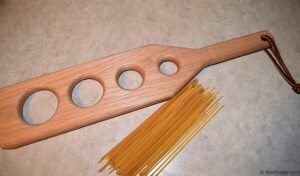 Making a spaghetti measure is a fun and easy woodworking project for woodworkers of all levels.  This handy kitchen tool makes it easy for cooks to get the right amount of spaghetti every-time.  You can make this is about an hour and they make excellent gifts.
Feel free to check out the Spaghetti Measure Project Plan I have included.  If you make one of these be sure to post a picture of it over on the WoodLogger Facebook Page.  I'd love to see how yours turns out.
Material List
(1) 1″ x 4″ x 2′ – oak (or any hardwood)
Milling & Assembly
| | |
| --- | --- |
| | I made my spaghetti measure 15″ long and 3″ wide.  You can use any wood you want.  Although, a hardwood would probably be best.  I chose to make mine out of 1/2″ oak.  Although in hindsight I think Walnut would have been pretty nice too. |
| | The board I had was 36″ long and the measure I'm making is only 15″ long.  So I was reminded of an old saying, "the only thing better than making a spaghetti measure, is making two spaghetti measures".  (seriously though you can always find a family member who wants one of your projects) I cut my boards to length and taped the two together with masking tape.  I then traced out a very simple design to make my measure.  It's a little hard to see in the pic, but I outlined something that looks like a paddle. |
| | In order to get my corners on the measure I used one of my favorite marking tools.  The quick corner set comes with 4 different marking templates.  Each template makes it easy for you to put your board on the template.  It'll give you a perfect every time.  I went with a 1/2″ corner for my measure. |
| | After I completed tracing out a pattern, I used the band-saw to cut the pattern of my measure.  I could have used a scroll saw as well.  For the holes I drilled out four holes using various sized bits.  Check out the project plan for more details. |
| | I used a 1/4″ round over bit on the entire measure.  I wasn't sure how doing a round over on the inside of the serving size holes would turn out, but it was actually really easy.  Just hold on to your measure and don't let it get away from you. |
| | I cleaned up my spaghetti measure using my WEN Oscillating Spindle Sander.  A spindle sander is great for this.  If you don't have one no problem just take a little extra time starting with a heavy grit sand paper and work your way through the grits till you're ready to finish it. |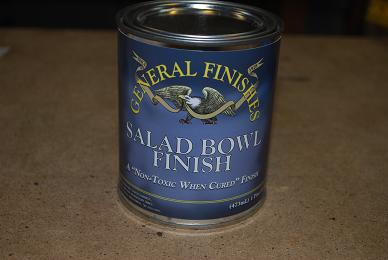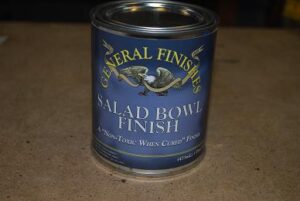 The measure is basically done, but I wanted to finish it with a food safe finish.  This was my first time making something that would come in contact with food.  I found the product Salad Bowl Finish by General Finishes.  The manufacturer states that it is safe with food after drying for 72 hours.  It also recommended a minimum of 3 coats.  I did 5 coats just to be on the safe side.
Enter your email if you want a free subscription to this site(we'll never share your email):

---
Items I Used to Finish this