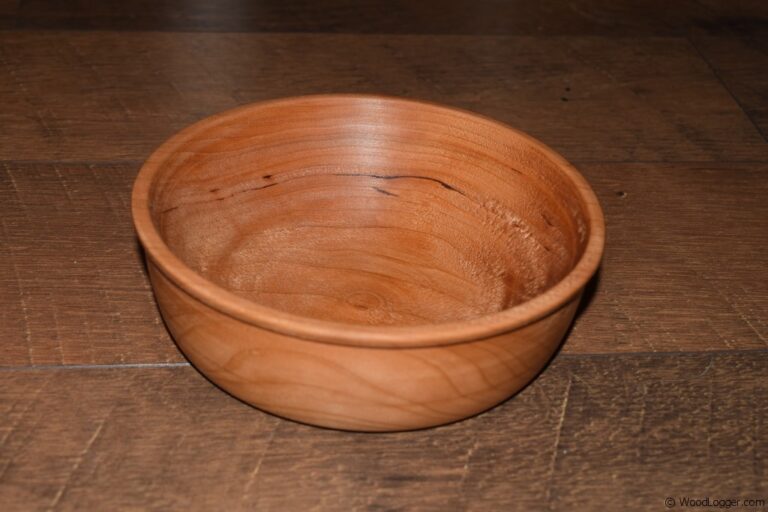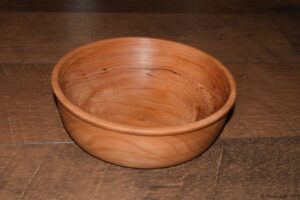 To Turn a Basic Bowl made out of cherry wood is easy enough.  Using basic and simple techniques.  For this project I used a 5″ x 5″ x 3″ block of cherry.  While turning this bowl I primarily used a bowl gouge and a skew.  To finish the bowl I sanded it smooth and then used a butcher block finish.  The bowl turned out great, and should last a long time.
If you make one of these be sure to post a picture of it over on the WoodLogger Facebook Page.  I'd love to see how yours turns out.
Material List
(1) 5″ x 5″ x 3″ Cherry Bowl Blank
Milling & Assembly
To get started with turn a basic bowl.  I picked up this block of cherry wood from my local rockler store.  I then found the center of the block by using a ruler and drawing crisscross lines.
After finding the center point I then used a compass to draw a circle that would give me the outline of my bowl.  This will be used as a guide for removing wood waste..
Next up I moved to my band-saw and removed as much as possible to make turning my block an easier and faster turn.
Next up I drilled a starter hole in the middle of the block to make it easier to insert a wood screw.
The next step was to load my block on to a worm wood screw that is attached to my talon chuck.  This is fairly easy to screw on if you drill a pilot hole for it.
To turn my bowl I start by shaping the outside and bottom of the bowl.  I like to use a bowl gouge to start with and then move to a skew.  After shaping and forming the bottom of my bowl I put an indention in the bottom of the bowl that was approximately 1 – 1/2″ in diameter and approximately 5/8″ deep.

After forming the bottom, I flipped the bowl over and secured the bottom to my talon chuck in the indention I made earlier.

I then turned the inside of my bowl.  I used the same technique of a bowl gouge and then a skew.  I also ensured that I didn't go to deep into the bowl.

To finish the bowl.  I sanded the outside and in using a turners pack of sandpaper.  I started with a 150 grit paper and worked my way up to 600 grit.

After sanding I used a Butcher Block finish to seal my bowl.  I really like this product it uses a mix of a food safe mineral oil and bees wax.

The bowl turned out beautiful and will be useful for many years.
Enter your email if you want a free subscription to this site(we'll never share your email):

Items Used to Finish this