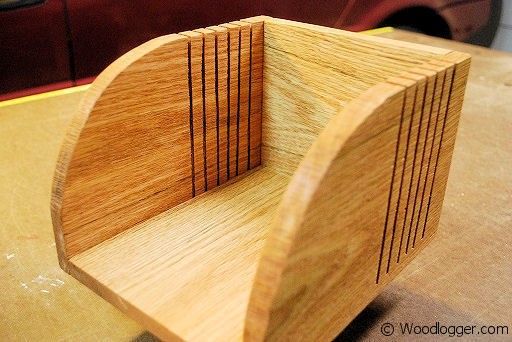 I've always loved bagels, and my wife enjoys baking bread occasionally in our bread maker. So I had this idea(not entirely original) to make a box that would allow us to cut both more easily. I made this bagel – bread Slicer slicer from a single oak board, but I suppose any hard wood would do just fine. If you decide to finish this make sure you use a food safe finish. I used a product called Salad Bowl Finish
, but there are certainly others out there. This is a great beginner project if you're new to woodworking. It's also a great one afternoon type of project as well.
For this project I have a free project plan (PDF) that you can check out. Also, be sure to check out my list of free project plan web sites too.
Also check out "my attempt" at putting a video together on how to make this below. Oh, and as always I'll include some links to items I used to build this at the bottom.
Materials
Not a lot for this one. I used a single board that I was able to pickup at Lowe's.
(1) 1/2″ x 6″ x 4′ – Oak Board (I used Oak, but any hardwood should do)
Milling & Assembly
| | |
| --- | --- |
| | I was able to cut all of the boards used in my project with a table saw. There are only four sides to this box, and nothing complex about this. |
| | For cutting the rounded sides I first taped my side boards together using painters tape. I used the Quick Corners Set marking tool to help with that. After that I flipped over the boards and marked out my slot cuts for the knife to pass through. I inset it in 1″ and then cut a total of 6 slots every 1/2″. |
| | To cut off the rounded areas I used a band saw. I also used my band saw to cut the slots into the boards. I had to make two passes for each slot to get the desired width needed for the knife to pass through. |
| | For Assembly I glued up all of my sides using a waterproof glue. I then clamped it up and finished it off with a few brads for extra support. |
Finishing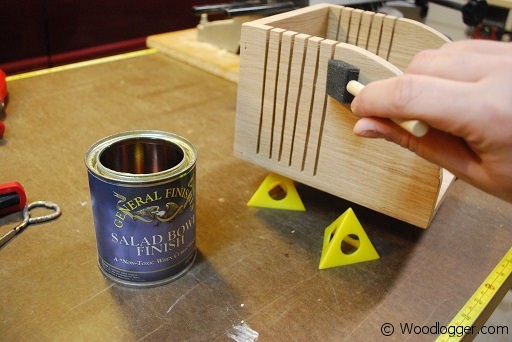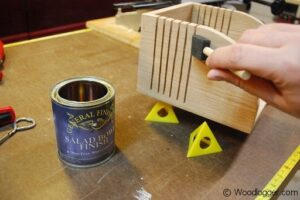 To finish this, I sanded all of my boards using a medium and then fine grit sandpaper. To seal the boards I used a food safe finish called Salad Bowl Finish
. I applied five coats to mine to ensure it will be protected for years to come.
Enter your email if you want a free subscription to this site(we'll never share your email):

---
Items used to complete this project